Sale Event + Markdown
Sale Event + Markdown is a great way to display your sales and really demonstrate the value of your discounts to your buyers.
Why use Sale Event + Markdown?
Sale Event + Markdown allows you to group together any relevant inventory you have to create a sale. 
By displaying a before and now price on your listings and grouping your relevant inventory together into a Sale Event, you could benefit from a potential 15% increase in conversion* from your buyers viewing items to buying them with a markdown compared to just reducing the price. This probability increases with higher discount rates, in particular those over 20%. 
*Based on...
Try out Sale Event + Markdown now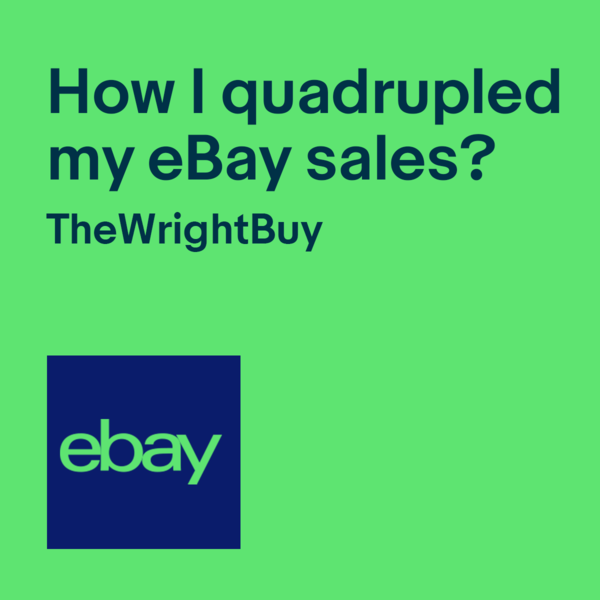 You can use Sale Event + Markdown to:
1
Introduce new items: Drive sales of a new stock line
2
Attract new buyers: Find new customers with a great offer
3
Clear Inventory: Close out old lines to make space for new ones
How does Sale Event + Markdown work?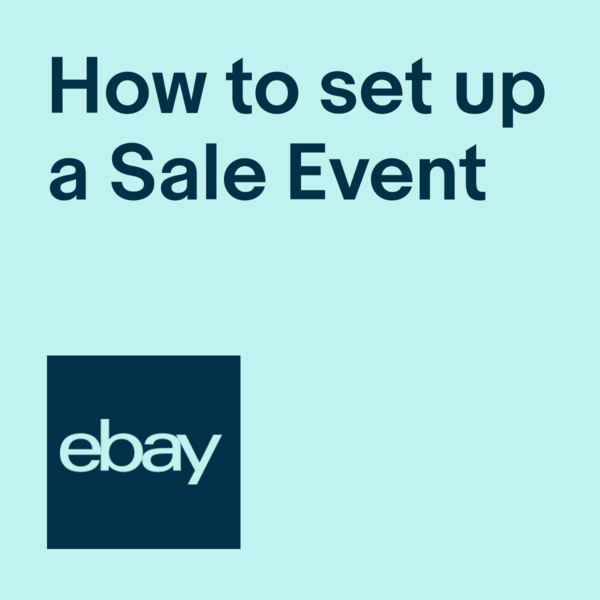 You can use Sale Event + Markdown to sell your items at a discount for a limited time, for example:
For example:
Save up to 75% on all men's suits


Save up to 40% on Star Wars LEGO sets
The Markdown feature lets your buyers see a before and after price on your included listings - clearly demonstrating the savings they can benefit from.
The Markdown feature lets your buyers see a before and after price on your included listings - clearly demonstrating the savings they can benefit from.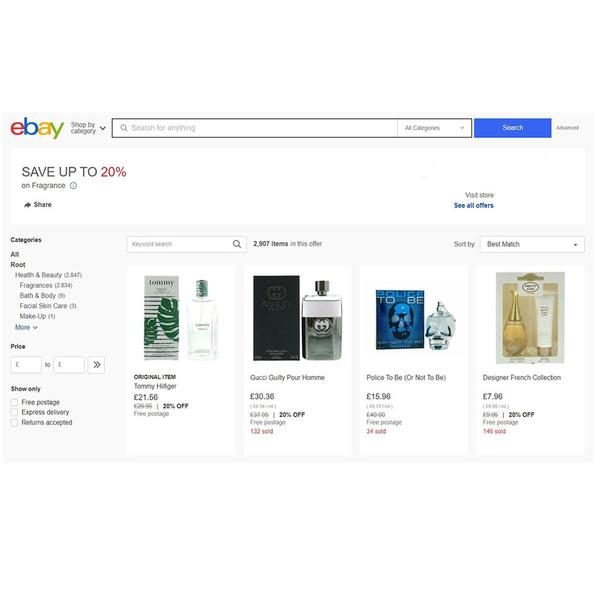 These Markdown prices appear in search results on eBay and on the view items page.
Particularly as your items go into a seasonal period of high demand, using Sale Event + Markdown means that you can discount your inventory and shout about it to your customers.
There are a few conditions on which listings you can include:
Listings should not have their price, or postage costs revised at least 14 days before the sale.


Listings should not have been part of a sale at least 14 days before the sale.
Our top tips
Avoid running one promotion for your entire shop. Instead, try to run targeted campaigns for specific categories or brands. If promotions are used for an entire shop, buyers are often shown unrelated items that they have no interest in.


Using percentage discounts is a great way to sell items with a lower value amount as they give you more control over the level of discount. For example, 20% off a £10 item would be a £2 price reduction.
Please note: When creating a Sale event + markdown, we ask that you do not select the "Offer free postage for all discounted items (applies to first domestic delivery service)" option. There's currently a bug that prevents you from setting up a promotion when this is selected. 
We encourage sellers to continue to offer free postage either at the listing level or by creating a business policy that can be applied as needed. We're sorry for any inconvenience.
Comparative Pricing
Sellers with Featured and Anchor Shop subscriptions have the option to set-up comparative pricing information using our developers set of API. This option is only available when listing items through API and third-party tools.
Using the API, you can set up comparative prices that compare to your historical price, as shown below, or the recommended retail price.
Similar to Sale Event + Markdown, using Comparative Pricing information gives your buyer information to help them clearly see the value of the price reduction in search results and on your listing page. 
However, this tool allows sellers using API and third-party providers to set up comparative pricing quickly and easily. We'd also recommend that you include your listings with comparative pricing in a Sale Event, as described above, to give them as much visibility as possible.
Please be aware of the comparative pricing policy, as you're responsible for complying with trading regulations related to comparative pricing information, for example holding evidence that a number of items were sold at the previous selling price for a minimum period. eBay may request information on this at any time.
How to set up your Sale Event + Markdown campaigns
Creating a Sale Event is simple: 
Choose your discount rate, either as a percentage, or take a set amount off each item. You can also offer free postage on your discounted items. When you have set your offer, click 'select items'.


If you want to select each item individually, either manually or by SKU/item ID, use 'Select Items'. To include items based on rules, select 'create rules'.


Name your sale, give it a description and include any relevant images to entice your buyers. Select the dates you want the sale to be live for and launch!

FAQs
Duration
A fixed price listing sale can last for anything between 1 and 14 days.
Item eligibility
The item must have been listed, without any change to item price, postage price or item description, for at least 14 days before it can be included in a sale.

If a listing is already in a sale or has bids on it, you won't be able to add it to a sale.

A listing can only be in one active sale at a time, but a listing can exist in multiple scheduled and inactive sales. If the dates overlap, the listing will be in the sale that was most recently set-up.

Items can be included in a sale for a maximum of 14 days, after which it needs to be excluded from a sale for at least 14 days before it can be added to a sale again.

Revising the item price and/or postage cost for an item on the Revise my item page removes the item from a sale.
An item can be included in a Sale event + markdown promotion as long as:
It has been listed on eBay for at least 14 days at the same price before the beginning of the markdown.

It has not been included in another sale in the 14 days prior to applying a markdown.
If one or both of these requirements are not met, we'll show a SKIPPED:price message. Items that have been skipped when a Sale event + markdown campaign starts because they are not eligible will be added automatically to the promotion if and when they become eligible during the remaining duration of the promotion.
Bear in mind that if your items don't meet these requirements, you can still promote them using Order discount promotions for added visibility as buyers look to grab a bargain.
Publishing and managing sales
Sales with more than 200 listings will need some time to be processed. Usually, this takes less than an hour.

Sales can be scheduled for up to 6 months in advance.

You can create as many sales as you like. However, the maximum number of listings that can be activated into a promotion in one day is:

250 for Basic Shops

2,500 for Featured Shops

5,000 for Anchor Shops

If you accept Best Offer for a listing you promote via Sale event + markdown, you won't be able to respond to offers automatically. Once the item goes on sale, you'll need to individually review all Best Offers for it.

You can only delete a sale if it is not pending or active.
Frequently editing your listings?
Make sure that your items are not revised or included in sales in at least the previous 14 days prior to the sale becoming active.

Make sure that your items are properly price established.
If that doesn't work for you or if you're using a service provider that is revising your items frequently, you can try the following:
Set up a regular Order discount promotion using Seller Hub Promotions for the same items, e.g. "5% off on all handbags - add to basket to qualify". This option gives your items added visibility while offering a bargain to potential buyers. Although these items won't display with a "was/now" price, they will be added to your promotional pages and will be visible to your buyers.

Consider reducing the price in Seller Hub. With this option, although the item won't show up as being on sale, the lower price may attract potential buyers. Check out our pricing guidance on Seller Hub for insights on which items might benefit from a price adjustment.