Order Discount
Order Discount is a great way to cross-sell at the most crucial buying moment, by combining complementary items in your inventory.
Why use Order Discount?
Using Order Discount is a way to help you combine items that pair well together and offer your buyers a discount if they buy them together. For example,
"20% off when you spend £100+"
"Buy 1, get the second 50% off"
We know that complementary items perform well when they're sold together as they can encourage your buyers to purchase more from your inventory in one order.
With Order Discount you can expect to: 
Cross-promote: get more visibility on your items
Grow your order size
Save on postage costs
Set up Order Discount campaigns now
How does Order Discount work?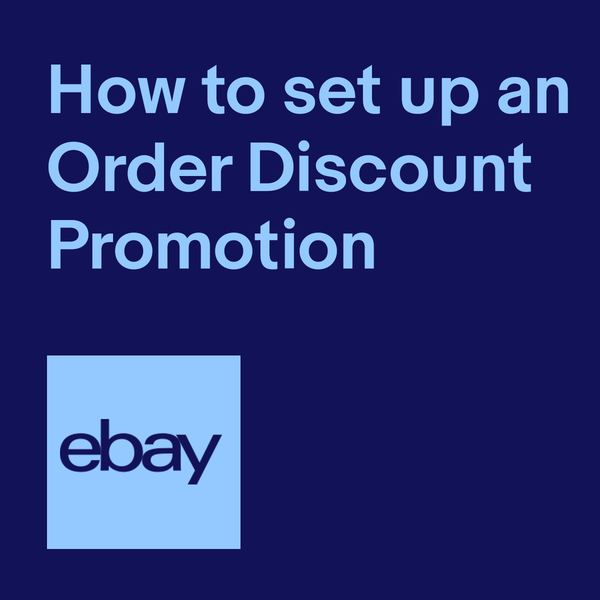 Examples of the types of offers you can easily set up from Seller Hub
Save £10 when you spend £100 or more
Save 20% when you spend £100 or more
Buy 3 and get 1 of the items free
Buy 3 different items, get 20% off
How to set up your Order Discount campaigns
Go to the Marketing Tab in Seller Hub, and select Promotions
Select Create a promotion > Order discount
Select your category and objective (e.g., introduce new items, attract buyers at peak shopping times, move older items) and eBay will recommend some promotions for you.
You will then be asked to select your offer type.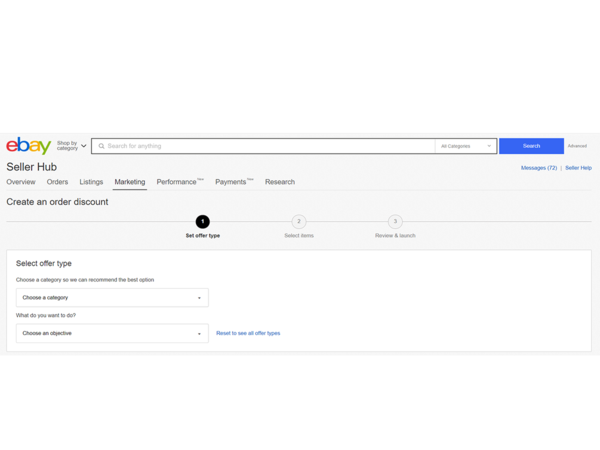 5. In the next step, you'll be asked how you want to apply the offer to your items. You can choose to Select Items or to Create Rules.
Select Items: Select individual items to include in your promotion.​
Create Rules: Rules can be created to automatically select items based on category and price, with filters based on product identifiers, so you can include a large number of items in your promotions easily. You can also make your offers conditional or unconditional.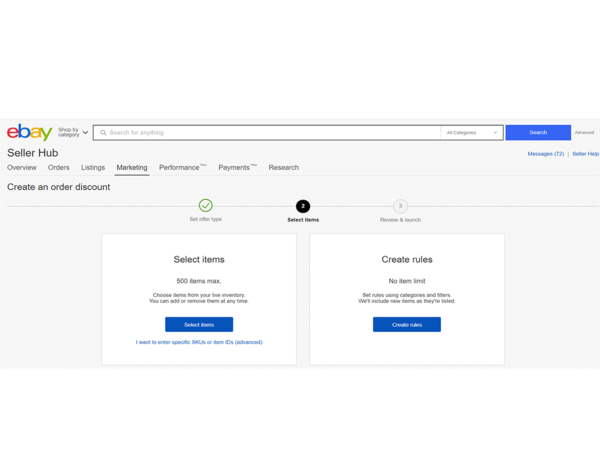 6. You can use either eBay's listing categories or your own Shop categories to filter your items for promotions.
7. Review your offer: Give your offer a name, duration, description and an offer image and then launch your promotion! Make sure your image reflects your promotion as it cannot be changed once the promotion has started.
8. Sales event page: When you set up a promotion with multiple items you can display them all on your own Sales event page. You can actively market this page and give your buyers an easy overview of all of the times included in your promotion.
Go to the Seller Hub and set up a promotion today!
FAQs
I'm using My eBay – how can I find the tool?
Go to Seller Hub → Marketing Tools → Create a promotion → Select Order discount
Why are my listings not being added to a promotion/shown as SKIPPED:price?
There are eligibility requirements for promotions. If your items do not meet these, they will be skipped. Find out more here.
What if I have listings on multiple eBay sites?
If you have listings in multiple currencies and choose to discount by an amount (not a percentage), that discount is in the currency of the listings and won't be converted.
For example, a discount entered as '5' will be £5 for eBay.co.uk listings and US$5 for eBay.com listings.