Offer to Buyers & Best Offer
We have a number of tools that can help you negotiate a price with a specific buyer. They're a way to offer a discount on a one-to-one basis with interested buyers and close the deal.
Why use Offer to Buyers?
The "Send Offer to Buyers tool" lets you engage with your watchers directly to offer a reduced price on your listings. This can help some of them take the final steps in buying from you. According to our data, watchers are at least 30% more likely to turn into buyers when they receive an offer from a seller.*
Send Offer to Buyers is found in Seller Hub Active Listing tab and lets you contact your watchers to offer them a discounted price. Being able to target buyers who are already interested in your items could help you increase sales and stay top of mind.
Tempt interested watchers by offering a 5% discount or more


Consider the best time of the day and week to make your offers


For items over £200, you can now offer less than 5% discounts

*Based on global market data January-June 2020
Find your most-popular items now
The offer price you send needs to be at least 5% lower than the original price on the listing for items with a Buy It Now price under £200. If your listing's Buy It Now price is between £200 and £1,000, you offer a discount of 3%, and you can offer 2% for items over £1,000.
Before making an offer, be sure to take your margins into account, including any eBay fees, advertising fees or other costs such as postage. If your interested buyers found your listings because you promoted it with Promoted Listings then those advertising fees may still apply (depending on how long it's been since they found your listing).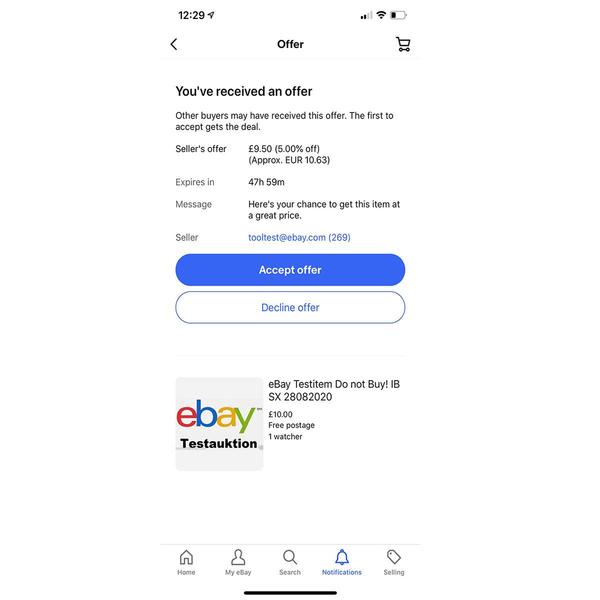 Send a message with your offer
You can include a message to your interested buyers, which will also clearly show that others may have received this offer as well. Please note, that buyers can opt-out of these messages by changing their communication preferences, so your offers will be sent to those buyers who can receive them. We recently increased the number of interested buyers you'll be able to send an offer to at one time, so you could see a higher conversion on your listings with a large number of watchers.
Remember: You'll see that by clicking "Send offer to buyers" you commit to selling the item if a buyer accepts. There's no option for them to send you a counter-offer, however, if you have Best Offer enabled on the listing, the buyer could use this to send their own offer.
Replying to buyers with an offer
If a buyer asks you a question before the transaction, you can reply with an offer. Buyers asking questions is an opportunity to close the deal quickly.
You can also reply to your buyers with an offer. If a buyer asks a question about a fixed price listing, you can send them an offer and invite them to buy the item at a lower price. You can do this by going to My eBay > Messages and selecting Reply with an offer.
You can send an offer for any fixed price listing, as long as the listing is active, does not use variations and is not listed in the Cars, Motorcycles & Vehicles category. 
And remember, you can't include contact information such as an email address, phone number or URL when sending an offer. You also shouldn't respond to a buyer who asks to purchase an item outside of eBay. Doing so violates our policy regarding offers to buy or sell outside of eBay.
Automatically send offers to your interested buyers
Once you've sent an offer to your interested buyers, the auto-send feature gives you the option to send the same offer to future interested buyers. We'll automatically check for new interested buyers every 48 hours from when you first send the offer until the listings end or you cancel the auto-send option. The automatic offer will be the same discount that you set up in the original offer.
When setting up an offer, you'll have the option to select "automatically send offers" in offer settings. You can both start and stop automatic offers on the Offer Settings tab on the manage offers page.
How to send an offer to buyers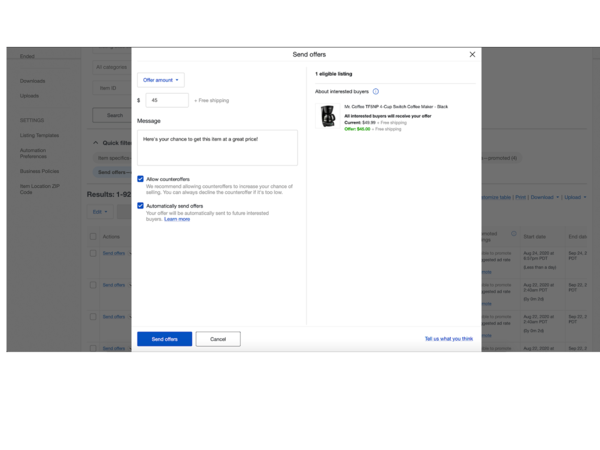 Best Offer
Best Offer is a feature that you can add to your listings to make a faster sale and test the pricing. Adding the Best Offer option invites buyers to negotiate with you. The next time you select a format like Buy it Now or Auction, you can also add Best Offer. 
After a buyer makes an offer, you can choose to accept or decline it or make a counteroffer. You can also set up rules to auto decline or approve, so you don't have to manage every offer manually.
Best Offer allows you to test the pricing of your item, accept offers where you are willing to make a deal or encourage sales on listings that may have had limited success to date. Sellers who use Best Offer often find it makes a difference to their sales and visibility. Many buyers opt to pay full price anyway as they don't want to spend the time negotiating.
To keep track of your offers, go to My eBay > More Actions > Manage offers.
If you are selling 2 or more identical items in a single listing, you can send an offer for all, some or only 1 of the items in the listing.
For example, if you are selling 4 of an item and the Buy it now price is £25 each, you can send an offer for all 4 items at a combined price of £80, for 2 items at a price of £40 or for 1 item at £20.
If you are accepting Best Offers on a listing, you can send offers on that listing to buyers who ask questions as long as the buyer hasn't already sent a Best Offer.
As soon as all of the items for a listing have been sold, either through Buy it now, Best Offer or by sending offers, the listing is immediately closed and any further offers are automatically cancelled.
How to add Best Offer
Frequently asked questions
Do any additional fees apply?
Apart from the standard fees for fixed-price listings, there is no additional cost to you for using these features.
The difference in Offer to Buyers & Best Offer?
Unlike Best Offer (an option you select at the time of listing) you can use this feature to make an offer to buyers who are watching your listings. If you're accepting Best Offers on a listing, you can still send an offer to a buyer if they are watching a listing. This does not apply if the buyer previously sent you a Best Offer.
Which price will be displayed in search?
Once the listing has ended and regardless of whether the buyer purchased the item from you at a discounted price or not, we will only show the original Buy it now price.
Can I use Send an offer for multi-SKU sales?
It is not currently possible to send an offer in either of these cases.
Is the item locked while an offer is open?
Having an open offer does not prevent others from buying the item. In addition, any offers which haven't been accepted when the item is sold to another buyer, will be cancelled.
Can I make a private offer on postage costs?
No, Send an offer applies only to the item price and does not cover postage. You can, of course, adjust the offer price to offset the postage cost.
How do I cancel an offer?
Visit My eBay > All selling and select More Actions > Review all offers for the relevant listing to cancel an offer. You can only do so if a buyer has not already accepted your offer.