Using promotions to boost your sales
As a business seller on eBay, you can benefit from a number of tools that may help you grow your sales. Not sure which one is right for your inventory? Our advice below outlines each of the tools and where best to use them.
Seller Hub Promotions
Our suite of tools in Seller Hub means there's always a promotional tool suitable for your business needs! You'll find more information about them below, but first - confused about where to start? Or which tool best suits your inventory and the time of year? Check out the quick guide.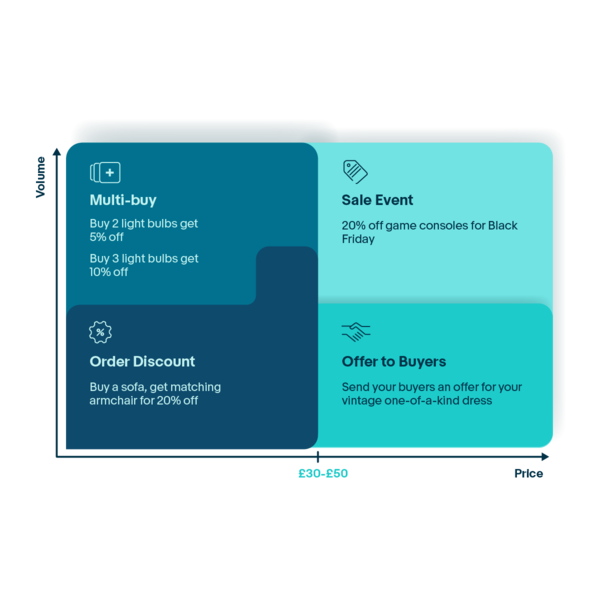 Offer tiered discounts to your customers to encourage them to order more of the same items.
Do's and Don'ts for Promotions
Creating a promotion is the first step, but making sure your offers are optimised and relevant to your customers is what will help you boost your sales using these tools.
In order to provide a better shopping experience for your buyers, we're now showing the most relevant promotions more prominently on desktop. Offers which are of low relevance to the buyer will be shown lower on the view item page on desktop. Mobile, search results page, and shopping basket are not affected by this. To make sure you don't miss out, give your offers a higher chance of being displayed prominently on the view item page by following our best practice guidelines.
Some do's and don'ts to consider when pricing your item: 
Do's
Curate promotions. We know that offers with low relevance don't convert well. Group items that are often bought together. Handpick items that go together, to make promotions relevant to buyers. We'd recommend grouping by similar items, or items that are complementary to each other. 

Time your promotions - choose key retail moment (Sporting Event, Christmas, Black Friday) and run promotions that are relevant to these. 

Create a worthwhile offer. Promotions that do not offer value for a customer will not be shown at the top of the view item page, but lower down on the page. The level of discount is important, but volume of sales on the discount is also a factor. Use our pricing guidance to see if your promotions will keep you price competitive. 

Monitor and test results – use the promotions dashboard and reports to see how well your promotion is working, and adjust accordingly. 

Know your costs. This will allow you to provide a worthwhile discount whilst maintaining a profit.

Know your stock. Discount items you have a large available stock of.


Don'ts
Don't discount randomly. Always consider your costs and profit margin.

Don't discount rare, one of a kind items that are in high demand.

Don't place all of your items in your inventory into one sale. It's likely that all of your items won't be related and adding them all to one sale can have a detrimental impact on the offer score of all your promotions.