Promoted Listings
Promoted Listings puts your listings in prominent placements across the eBay network, helping boost visibility and your chances of selling.
Why use Promoted Listings?
Only pay when you sell: You only pay when a buyer clicks on your promoted listing and purchases the item within 30 days.
Visibility boost across the eBay network. There are many places on and off eBay where your Promoted Listings could appear to potential buyers. Your promoted listings could soon be showing on desktop, mobile or the eBay app across a whole range of page types including search results and listings pages, and across the eBay network. Some of these placements are exclusive to Promoted Listings.

You're always in control: Use your reports to see how your campaigns are performing in the past and in real time. You can optimise campaigns at any time. You'll find your reports in the dedicated Promoted Listings Dashboard.
eBay Shop subscribers receive Promote Listings credit for upgrading listings. Anchor Shops receive £20 monthly credit with Featured Shops receiving £10 each month.
Easy to create campaigns: It takes only minutes to launch a campaign. There's no need to spend time working on the design because we include the relevant information from your listing, including your primary photo, price and format.
Personalised recommendations: We'll help your campaigns by recommending items with a high potential to perform well, as well as giving you guidance on setting optimal ad rates.

Start using Promoted Listings now
Why I use Promoted Listings to increase sales
Kieron and Trevor share their experiences using eBay tools and provide us with their top tips to generate more sales for your business.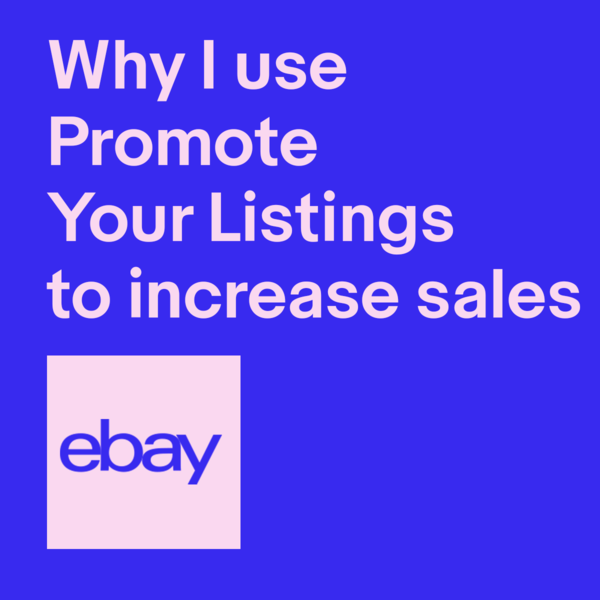 Create successful Promoted Listings campaigns
Before you begin creating your campaigns, take some time to optimise your listings. There are a number of things to look out for:
See if the listing is in the best category
Write engaging accurate titles and descriptions
Be clear about the item's condition
See if you need to adjust the price and make sure you're pricing accurately
You can find out more about how to create great listings: here.
Once you're happy with the listings, consider these top tips for successful campaigns:
Always-on campaigns You don't have to enter end dates for your campaign, so you can leave a campaign running safe in the knowledge that you'll only pay your chosen ad fee when you sell.
Promote items already selling well  Promoted Listings could bring even more sales of your best selling products by further improving your visibility in search results and displaying listings in exclusive Promoted Listings placements on other pages like listing pages.
Promote new products Let more potential buyers see your new products, quicker.
Promote seasonal items Consider creating campaigns that help you stand out from others at the busiest times of the year.
Sale events If you're running a sale, let more potential buyers know about it.
Promote our "Recommended items"
Take a look at our Recommended items when you begin to create a new Promoted Listings campaign. Recommended listings are those with the highest potential to benefit from being promoted, due to marketplace trends like buyer demand and the competition in the item's category. We recommend that you promote those listings first although you can still promote any of your other eligible listings for greater visibility.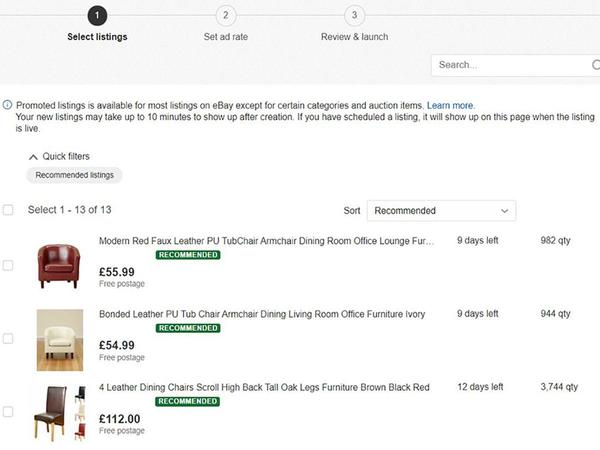 Choosing the optimal ad rate
We recommend you look at the suggested ad rates to determine an ad rate that is most likely to deliver a good balance between visibility boost for your listings and cost. Remember, you can be flexible with your ad rates. So, if you run a campaign with a high ad rate, you're always able to experiment with it and change as needed.
You will find the suggested ad rate for each item on step two as you create your campaigns. You can also see it in the Promoted Listings column on your active listings page in Seller Hub. Suggested ad rates are calculated based on a variety of factors designed to help you find an optimal balance between performance and cost. Factors may include item attributes, past performance, seasonality, and current competition.
Promoted Listings reports
To get the most out of your campaigns, we recommend you regularly check your Promoted Listings reports to analyse your performance and guide your optimisation. You will find these reports in the Promoted Listings Dashboard. There are four different types of report:  
Summary reports - where you can see high-level metrics and quickly check the overall health of your Promoted Listings activity
Performance graph- where you can visualise data, spot trends over time, and compare Promoted Listings data to previous organic listings data to evaluate campaign effectiveness.
Campaign reports - where you get downloadable reports providing you with listing level performance data for specific Promoted Listings campaigns.
Sales reports -  where you can find detailed information on each sale you generated with Promoted Listings over the last 90 days.
Check your campaign performance with easy to read reports in the dedicated Promoted Listings Dashboard. Reports can tell you all you need to know about active and past campaigns.
Key Metrics
The key metrics for your campaigns include:
Impressions: The number of times your listing was displayed as a Promoted Listing
Clicks: The number of times potential buyers clicked your ads
Sold: The number of items sold through Promoted Listings ads
Sales: The amount of sales generated by promoted items sold within 30 days of a click on your promoted listing.
Ad fees: The fee based on the ad rate set for your items at the time the buyer clicks on the ad.
Visit the Promoted Listings Dashboard now!
Visit our Promoted Listings FAQ page where you will find answers to all your Promoted Listings questions.